Connecticut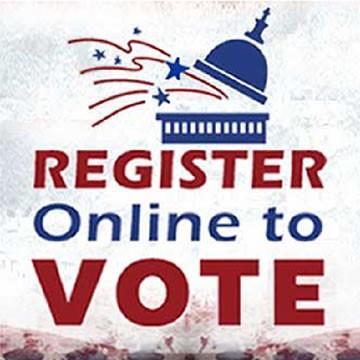 LWVCT is proud to work with the Secretary of the State's Office to provide
a link
to online voter registration.

LWVCT Centennial Gala
The League of Women Voters of Connecticut is hosting a gala dinner to celebrate the 100th anniversary of the founding of the League of Women Voters and women winning the right to vote. Plan to join us for an evening of celebration and inspiration!
February 22, 2020
5:00 pm
Italian Center, Stamford, CT 
Support LWVCT!
Sponsor the Gala or buy a program ad.
Gala Honorees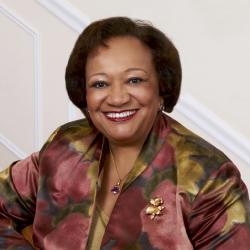 Outstanding Woman in Philanthropy
Juanita T. James 
President and CEO, Fairfield County Community Foundation
Juanita T. James joined the Community Foundation in 2011. As President & CEO, she is responsible for advancing the organization's mission of promoting philanthropy to create systemic change in Fairfield County, fostering a vital and inclusive community where every individual has the opportunity to thrive. She is currently a Director for Asbury Automotive Group, First County Bank, Rockefeller Philanthropy Advisors, and CFLEADS. She is also a Vice-Chair of the Board of Trustees at Lesley University, a Trustee Emerita of Princeton University and a former Trustee of the University of Connecticut.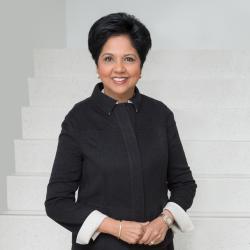 Outstanding Woman in Business
Indra K. Nooyi
Former Chairman and CEO, PepsiCo
Indra Nooyi is the former Chairman and CEO of PepsiCo. In this role, Mrs. Nooyi was the chief architect of Performance with Purpose, PepsiCo's pledge to do what's right for the business by being responsive to the needs of the world around us. Currently, Mrs. Nooyi is a member of the board of Amazon and she serves as a member of the board of Schlumberger Limited. She is also a member of the International Advisory Council of Temasek, an independent director of the International Cricket Council and is a member of the American Academy of Arts & Sciences.
Keynote Speaker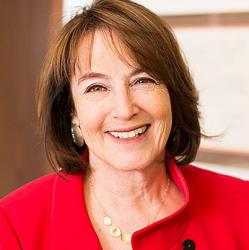 Judge Nancy Gertner
Former Judge of the United States District Court for the District of Massachusetts
Nancy Gertner is a professor at Harvard Law School. From 1994 to 2011, she was a federal district court judge in Massachusetts, appointed by President Clinton. She taught for over a decade at Yale Law School and for two decades was a criminal defense lawyer, civil rights, and women's rights activist. Her writings include her 2011 autobiography, In Defense of Women. She is presently working on a judicial memoir entitled Incomplete Sentences: Judging, Guidelines, and Gangs (Beacon Press, forthcoming).
Event Sponsors
Michael and Carol Reimers
LWVCT Honored at CT Suffrage Centennial Kick Off Event
LWVCT received the CT Suffrage Centennial Award at the Capitol when the Connecticut passage of the 19th Amendment was celebrated as the 100th Anniversary is approaching.  This event was led by Committee co-chairs Secretary of the State, Denise Merrill, Lieutenant Governor, Susan Bysiewicz and First Lady of the State of Connecticut, Annie Lamont.  LWVCT is proud to accept this award on behalf of all the members who have contributed to our mission work for almost 100 years.  League leaders joined President Carol Reimers and Secretary of the State Denise Merrill to mark this special day for LWVCT.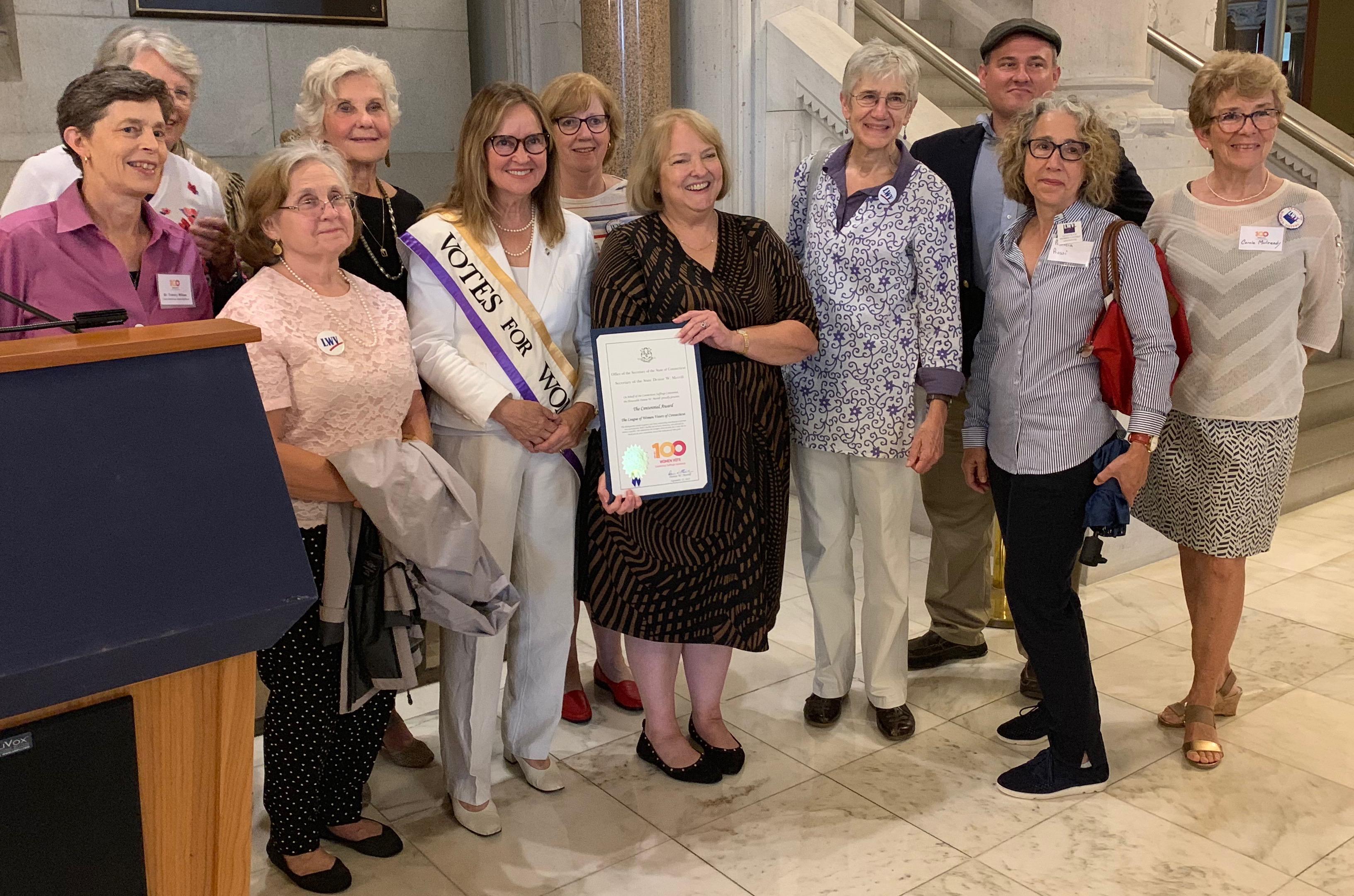 People Powered Fair Maps Campaign
LWVCT is proud to be part of the newly launched People Powered Fair Maps Campaign. The League of Women Voters, one of the country's largest & oldest non-partisan voter advocacy organizations, is launching a "multi-million-dollar, multi-year" effort to end discriminatory gerrymandering, the practice of drawing electoral maps for political gain.
Join the effort here in Connecticut by contacting us at lwvct@lwvct.org.
Census 2020
LWVCT is working coalition with other organizations to make sure that Connecticut get the best Census count in 2020.  You can help too!
The American Library Association has published it's guide, Preparing My Library for the 2020 Census. Each census cycle, the ALA provides a tip sheet for libraries to use in preparing for the Census. This year, LWV is specifically named as a reliable community group doing work in this space. 
CT VOTES! Campaign to increase voter participation in Elections 
The League of Women Voters of CT encourages informed and active participation in government, works to increase understanding of major public policy issues, and influences public policy through education and advocacy.
Voter information is what the League of Women Voters does best!  We designed VoteCT.net to help both new and experienced voters in Connecticut find information for all elections. It includes information for upcoming elections, access to info on registering to vote, who the candidates are, voting by absentee ballots, voting at the polls, and working at the polls. All in one spot!   
Citizens' Election Program
CEProud is a three year commitment (2016-2019) by LWVCT to raise awareness of the Citizens' Election Program, Connecticut's model program for publicly financed campaigns.  
NEWS